SkillCorner takes proactive steps to make individual performance data freely available to players
• November 2023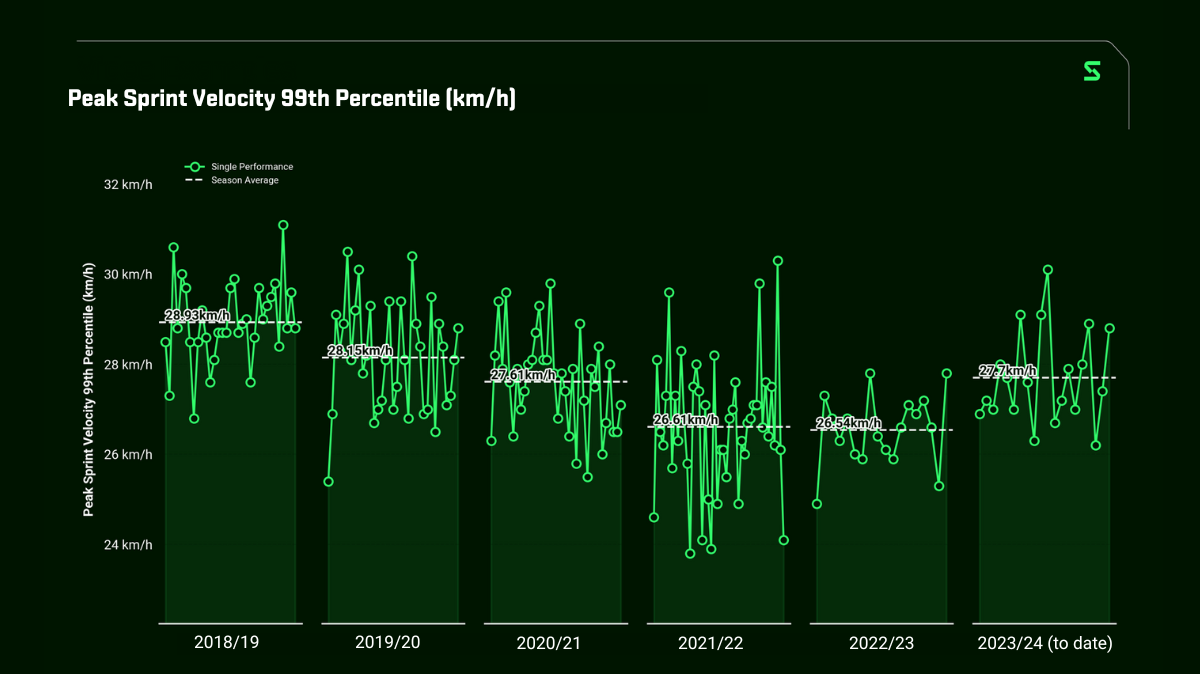 Professional footballers can now freely access their personal performance data directly from SkillCorner and through an innovative partnership with BreakAway Data.
In recent years, data has become an increasingly important and integral part of football at the elite level; helping sporting directors, scouts and analysts to optimise decisions around recruitment, player development, match analysis and team strategy.
From biometric and physiological data through to the technical, tactical and physical performance insights that SkillCorner provides, these metrics can now provide a highly detailed and holistic picture of a player's performance and development.
Through governing bodies, federations, player unions and other stakeholders, there is also a growing (and understandable) desire to ensure that the players at the heart of this data can easily exercise their right to understand what information is being held about them, and to access it for themselves. Furthermore, for players in (or from) Europe there is now a legal obligation under GDPR to make their personal data accessible and available when requested.
As a leader in tracking and performance data within football (now also moving into basketball and American football), SkillCorner is taking proactive steps to facilitate this, making our data and derived performance metrics freely available to players. We are doing is doing this in two ways:
1. Direct Access: Any individual player or their representative can request direct access to their own performance data, via access to the SkillCorner API.
2. Access via BreakAway Data's mobile app: SkillCorner is partnering with BreakAway, an innovative business with a digital platform that brings together numerous data sources to give players a single, holistic view of their performance and health metrics.
Through our partnership with BreakAway, players will be able to easily access, visualise, analyse and benchmark their SkillCorner physical and performance metrics, alongside data from a variety of other sources.
As Paul Neilson, General Manager of SkillCorner explains, the company sees this as an important step in ensuring that players can directly benefit from the performance data being collected:
"With more than 130 clubs, leagues, federations and agencies making use of our data to inform their decision-making, SkillCorner is now an integral part of the football performance ecosystem. Our performance data allows clubs to quickly identify, analyse and benchmark players on a global basis, supporting clubs in making smarter decisions and helping players to be discovered and develop their careers.
"Alongside this, there is a growing interest among players (and their support teams) in having access to their own data and performance metrics; using it to gain a deeper understanding of their own performance and longitudinal development. We believe that this has a real value to players at an individual level, which is why we are pleased to be taking these proactive steps to make the data freely available to players directly from SkillCorner and through the partnership with BreakAway."
SkillCorner data will be available on BreakAway's app from today (14th November 2023). The app is free to use for any professional player wishing to have access to their personal performance data. Additional SkillCorner Data enhancement 'packs' will also be available from BreakAway, offering enhanced functionality including more detailed analytics and contextualisation.
Our partnership with BreakAway will initially cover the Men's and Women's leagues across England, Spain, Germany, Italy, France and the USA, with plans to cover each of SkillCorner's 75 leagues. Players will be able to access their individual SkillCorner match data alongside their match event data, simply by registering with BreakAway.
BreakAway Data founder, Steve Gera, said:
"We are delighted to be partnering with one of the most innovative data companies in sport, and to join with them in setting the standard for enabling players to access and engage with their individual performance data. SkillCorner will be delivering immense value, helping individual players understand their own game and decide how to take their performance to the next level. We couldn't be more excited to work with SkillCorner to support the current and future generations of players globally."
Any player wishing to request direct access to their data can email players@skillcorner.com.

The BreakAway app can be downloaded from the App Store.


SHARE WITH OTHERS